Saying goodbye
I didn't expect the goodbye to be easy, but I never expected it to be so hard, either. I think it was one of the hardest things I ever did, on that 23rd of September, 2011.
I was going to miss my friends and family back home, but that's absolutely nothing in comparison with the goodbye to Anneleen (my girlfriend — she's awesome!). It was very hard. We barely managed. I wish I could've taken her with me. The only way we managed was by telling ourselves that it's too big an (career) opportunity to pass on, and that the experience I'd gain at Facebook would help my career and thus us for the rest of our lives.
The flight
Facebook booked the flight with British Airways. I'm used to flying with lowcost airlines such as Ryan Air, Brussels Airlines, and so on; so I expect to have to pay for everything.
Well, that simply doesn't apply to British Airways. The flight booked for me by Facebook's travel agent to London was in Economy class, but the one to San Francisco was in "Club World class"1. More about that later.
I checked in in Brussels airport, where the (very friendly!) hostess told me I could wait until just a mere 30 minutes before my flight would depart before going through security, since there usually isn't a big line. I'm not sure if this made the goodbye harder or easier.
First there was a 45 minute BRU → LHR flight. The arrival in London's Terminal 5 implied going through security again. And then being wowed by the design of Terminal 5. Incredibly fancy.
While making a panoramic photograph of the terminal, a security officer came to me; apparently it's not allowed to take pictures that even vaguely include the security checks. He asked me to delete the pictures. Fair enough.
Then I went to a BA (British Airways) counter to confirm that my flight was still leaving at the planned time. Apparently, it had suddenly become overbooked. I got a free (yet involuntary) upgrade to business class. Wow!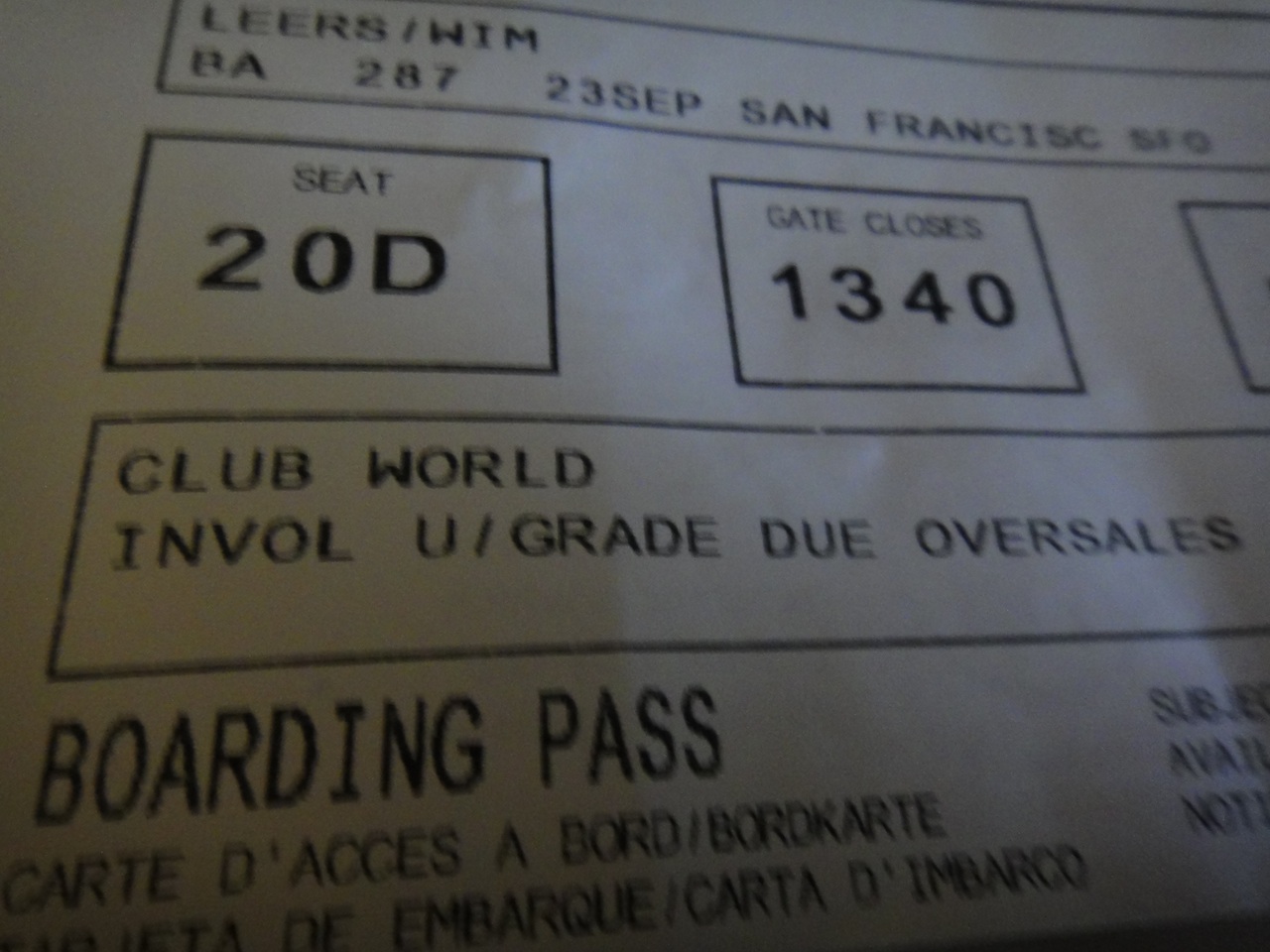 By now, the flight was also delayed. So I had plenty of time to take a look in BA's lounge. I did not get access to the business class lounge, only to the Club lounge2.
There were two such lounges in Terminal 5 alone.
I entered one.
Holy shit.
So fancy. So much newspapers. So much food. So many drinks. So many snacks. Wi-Fi.
All free!
I really don't want to know what the business lounge looks like, then…
While enjoying some of the food (and fixing an issue on my server that had just popped up), I became fairly relaxed. The flight was now postponed to 14:20 GMT. But the boarding was actually not marked as postponed. Boarding was not at 14:00, but at 13:40. Or so it seemed. I only noticed this at 13:35. So I ran.
And made it there just in time (even though this involves going down two staircases, running a few hundred meters, taking an elevator and running up two absurdly long staircases), only to see that the check-in was actually only going to begin at 14:00. Argh!
When the boarding finally started, I could board immediately, since I was now one of the lucky few that'd fly in business class. So strange!
Entering the plane, I wondered what my seat was going to look like. I just expected regular seats, but with a lot of leg room. Boy, was I wrong.
My seat basically was a remote-controlled, electronically readjusting chair that could be morphed into a bed, with a pop-out screen (where you can choose whatever movie or tv show you want to watch) with another remote control. Also included: blanket, pillow, full-on over-ear headphones, power plug and a tray to store your laptop in. Holy whackamony!
I couldn't even reach the seat in front of me when I stretched my legs!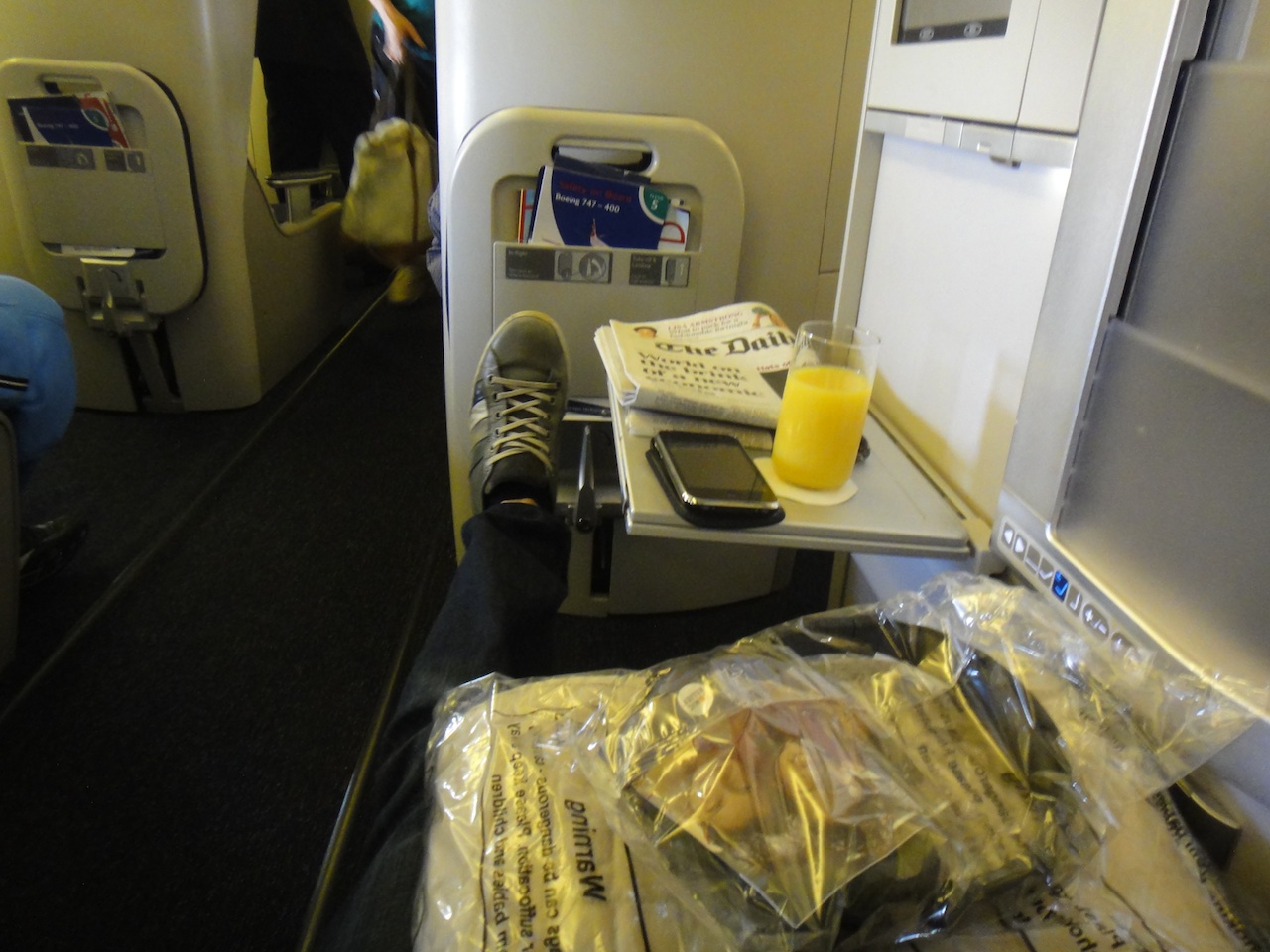 The number of times I was asked if I needed anything was almost annoying. In the 10:45-long flight, I've been asked that question at least 15 times, if not 25.
While I didn't quite like the food, I did have the choice between a large variety of wines and champagnes, several starters and main courses and half a dozen deserts.
I managed to sleep a few hours. First time I ever slept on an airplane. I doubt I could've slept if I hadn't flown in business class.
"Welcome to San Francisco"
Upon arrival, I had to make sure I had filled out my customs record and an I-94 form. Within 10 minutes, I had my both of my suitcases — usually I'm one of the last.
After waiting 20 or so minutes in line, a security officer reviewed my paperwork. Just a few minutes later, I was deemed okay and could enter the United States! Passing through customs was a breeze, since I didn't bring any food whatsoever with me from Belgium.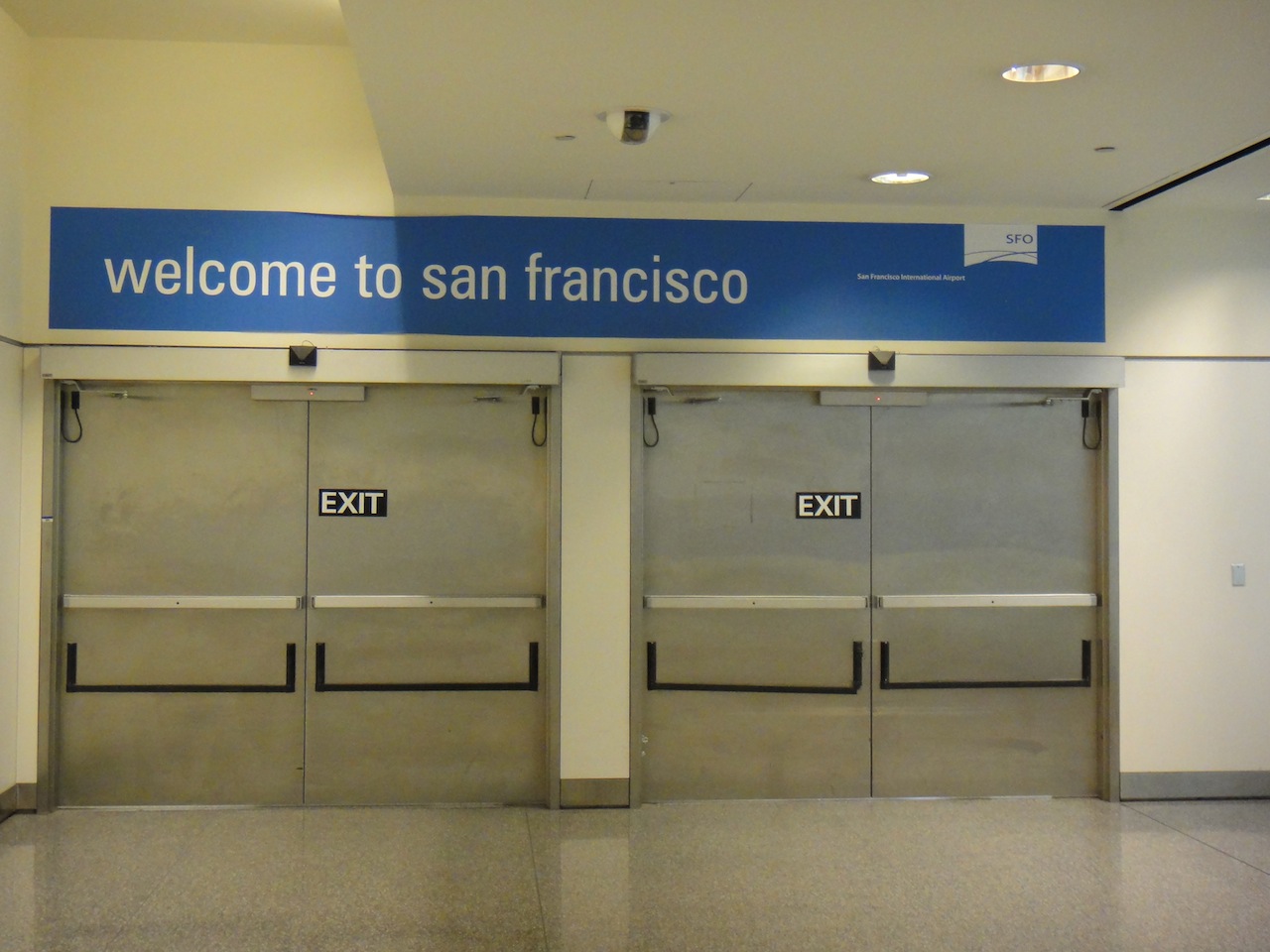 Too tired to give the local public transport system a try (a very good thing, in hindsight), I grabbed a cab to my hotel ($120, by the way).
The Credit Card Crap
So there I was, checking in to the hotel, craving for a shower and some sleep. Almost there!
The last hurdle — quite unexpectedly — turned out to be my credit card. The (very expensive Crowne Plaza Cabana) hotel was unable to charge my credit card for incidentals3. Huh? The manager retried three times. I had no idea what was wrong. A $50 cash deposit would work as well — great!
Finally having entered my room, I looked up my credit card's balance online. Huh? About €700 was charged on September 22? Two charges by HOTWIRE-SALES FINAL, worth $942.46 in total. So I effectively no longer had a credit card with credit on it, and it's weekend already in Belgium, so there's no way to recharge it. Great start!4
I staid up until 23:00, when Anneleen was supposed to call me (since there's a 9 hour time difference, it was 08:00 of the next day in Belgium). By this time, I had been awake for about 28 hours, minus the few hours of (light) sleep I'd had on the airplane.
I hadn't eaten anything for about 6 hours, and hadn't eaten anything substantial for more than 12 hours. I fel crappy, but couldn't get any food in.
The call was hard.
Jet Lag
At $17, you'd expect such a fancy hotel to deliver a breakfast that's at least acceptable. But man, was it crappy! I didn't gain much energy. Lunch at Armadillo Willy's (a fastfood restaurant) did help me a lot. My first "truly American meal". The extensive walking and thus the fresh air made me feel significantly better. But I still could tell that I was severely jetlagged. Hefty nausea, extreme fatigue, sore throat, unable to think clearly. Bah.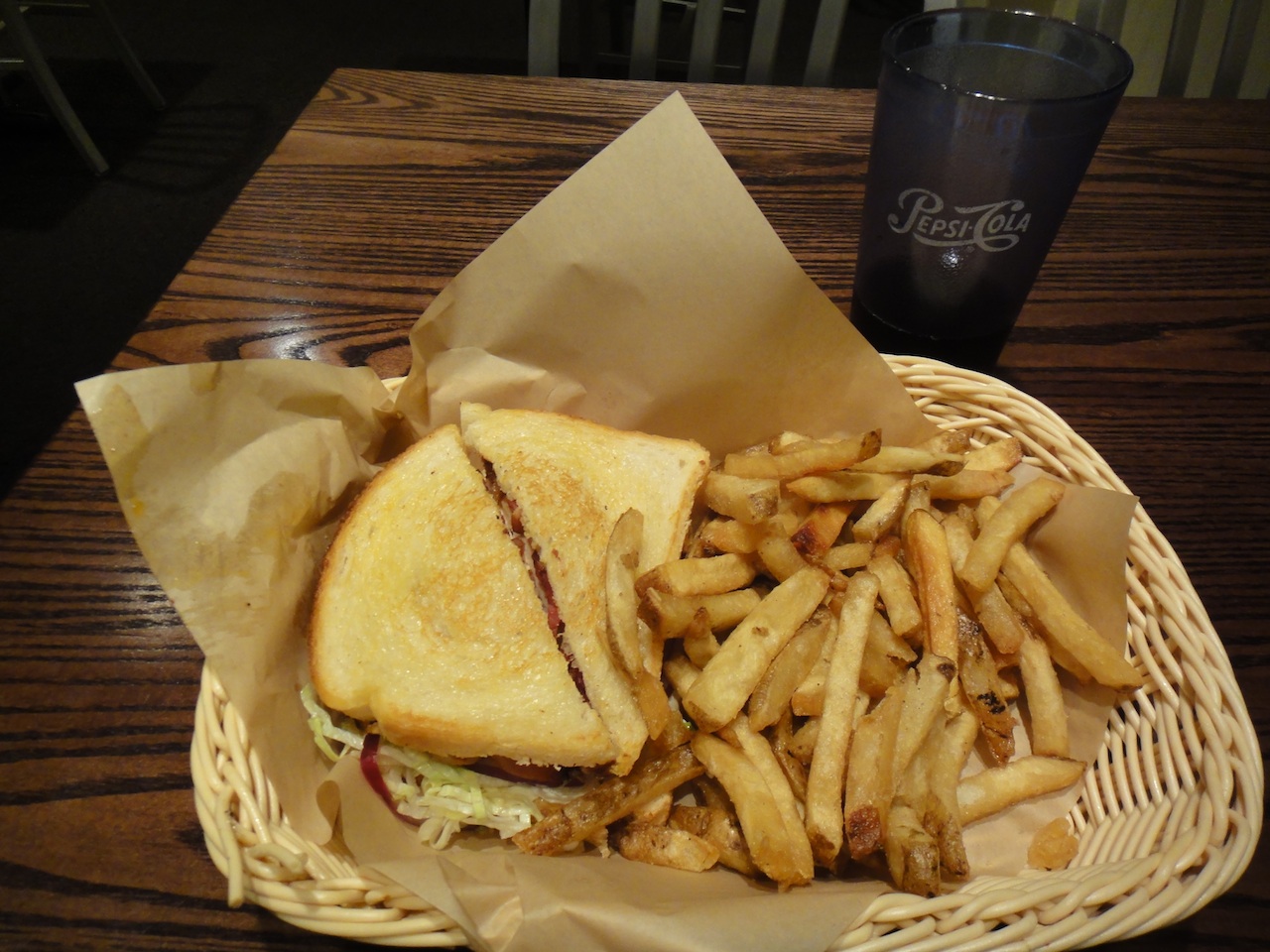 The subsequent day, I went to Esther's Bakery (a German bakery) for breakfast. It was at least a little bit like the food back home. A pizza margherita at Oregano's Wood Fire Pizza for lunch. Feeling better and better.
Then moving to the Zen Hotel, where I was going to stay until next Saturday; then I could move in to my "apartment" (it's really just the rear suite of a house).
Being in Silicon Valley, you'd expect the internet to be awesome. But no. Mobile phone reception is spotty at best (at least with AT&T) and the hotel's Wi-Fi is the most crappy one I've ever encountered. Low latency, sure. But it took me 5 minutes (really!) to just load the authentication page.
Relocating to another room didn't help. They were aware of the problem and would solve it "soon", but I didn't hear back from them all week.
But remember the credit card thing? How was I supposed to pay my ±$1000 hotel bill without a credit card? Fortunately, they agreed to let me pay in cash… (That 20 minute walk with $1000 cash in an unknown area felt rather strange, for what it's worth.)
After this was all settled, I tried the commute I'd have to do the next day — September 26 — for my first day at Facebook.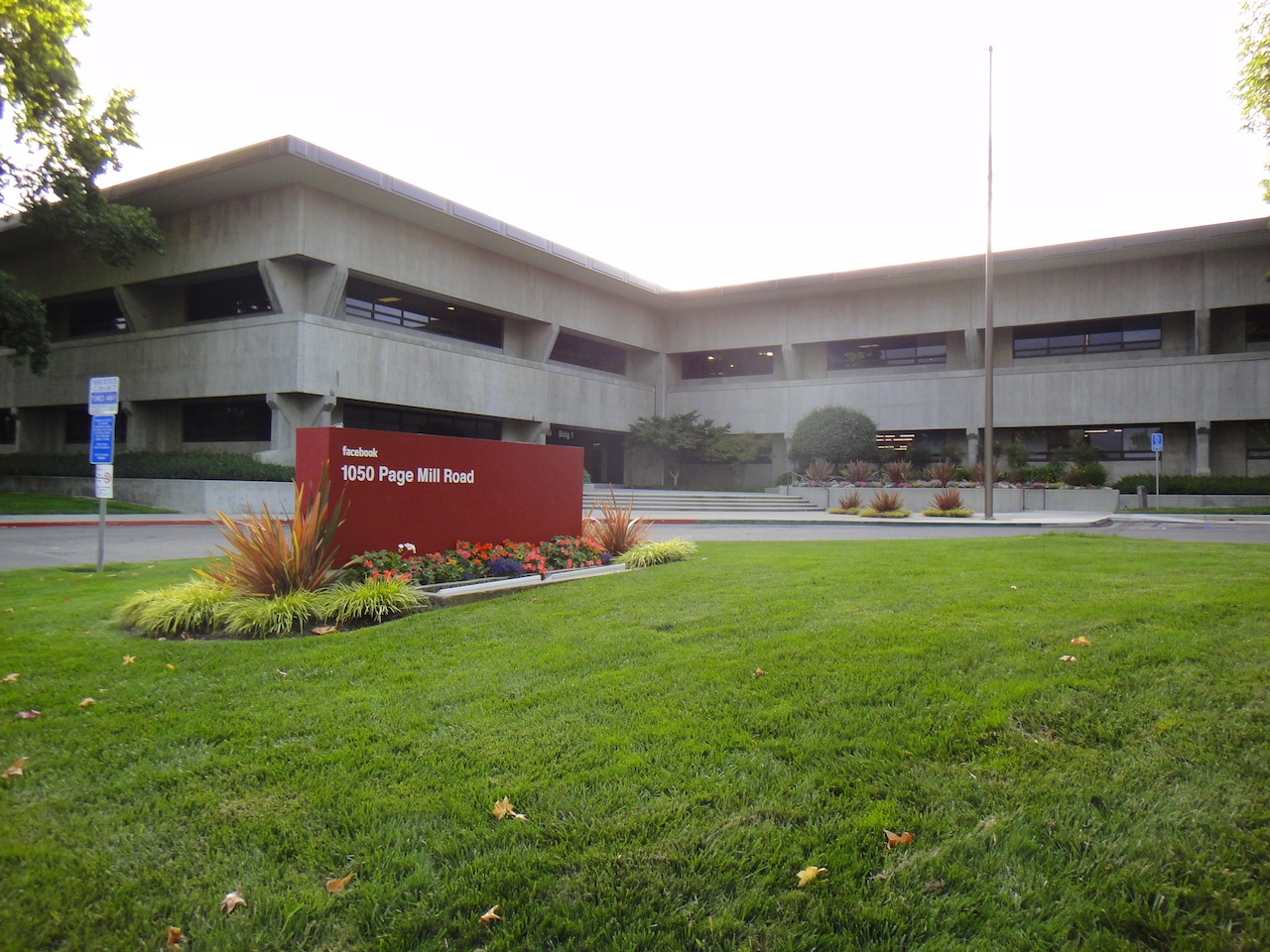 Excited as I went to bed, I was really hoping that I'd be feeling much better when I woke up!